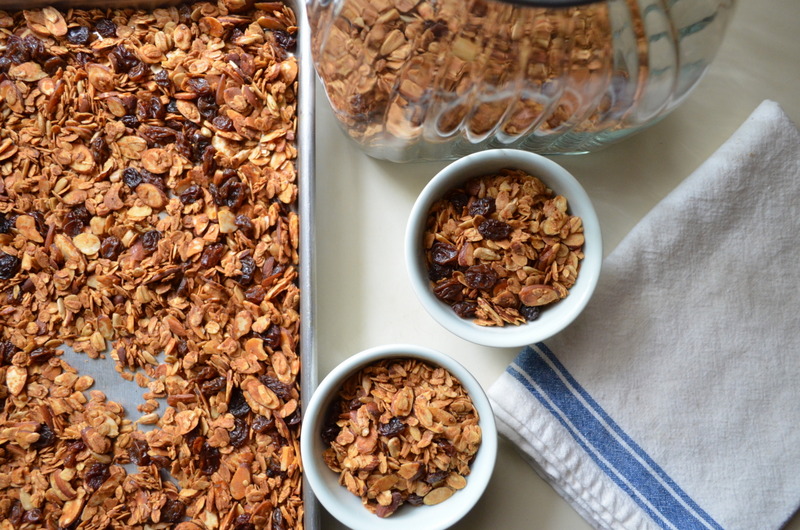 A while back I taught you all how to make your own yogurt.  I recently also shared this how-to with updated photos on the Grand Rapids Cooking School Blog.  Now that you know how to make your own yogurt, wouldn't it be great if you knew how to make your own granola to eat with that yogurt?  Granola is a great breakfast and a great snack but is often so expensive to buy in stores and is often much higher in calories than it needs to be.  The good news is that it only takes about 40 minutes (only 10 minutes hands-on) to make a large batch of granola.  Not only is it considerably less expensive, it is so much tastier and you can put anything in it that you want.
Below is a basic granola recipe that can be easily adapted to suit your needs.   For the oil, you can experiment with olive oil, coconut oil, or canola oil.  For the sweetener, you can try maple syrup, agave, or honey.  For the fruit and nuts, try any combination that you like.
If you are still not satisfied with your options (I thought I had perfected granola until my sweetie begged for clumpy granola), read on past the recipe to learn how to make CLUMPY granola!
Ingredients:
4 cups rolled oats (be sure not to use quick oats)

1 tsp ground cinnamon

½ tsp salt

1 cup dried fruit (I switch it up depending on what I have on hand.  I have used raisins, dried apricots, currants, cranberries, or diced prunes–I bet dried blueberries would be great too!)

1 cup nuts and seeds (I usually do a mix of chopped walnuts, sliced almonds, raw pumpkin seeds, and raw sunflower seeds…but any combination of nuts and seeds will work!)

5 tablespoons melted coconut oil or olive oil

1 tsp real vanilla extract

½ cup real maple syrup, agave, or honey if you aren't vegan

Optional:  sesame seeds, flax seeds, coconut flakes…anything else you want to add!
 Instructions:
Preheat oven to 300°

Mix together oats, cinnamon, salt, nuts and seeds in a big bowl.  Please note:  I have added fruit to the mix at this point mostly with success…but due to burning the fruit a couple of times during the baking process I now choose to add it at the end!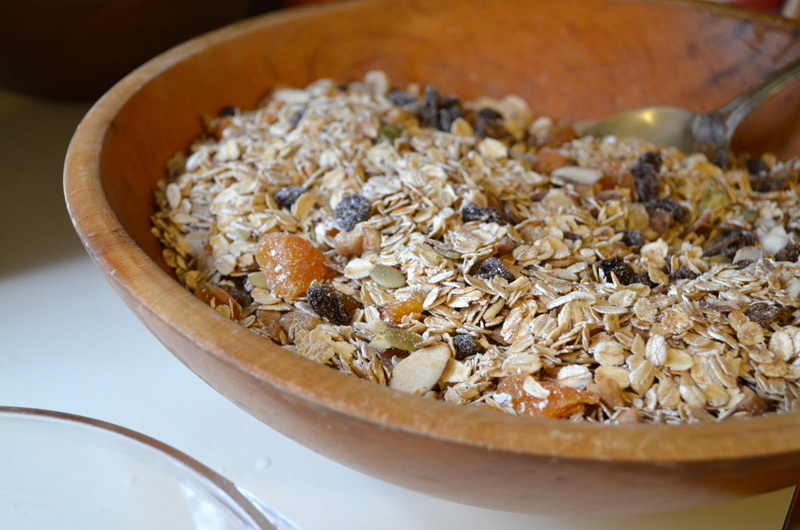 3.  In a separate bowl, whisk together maple syrup, oil, vanilla, and salt until smooth.
4.  Add wet ingredients to dry ingredients, stirring until all dry ingredients are well coated. Spread mixture onto two oiled baking sheets (make sure they are rimmed sheets!).Spread evenly and press down firmly into a single layer with a spatula.  You can leave an empty space in the middle of the pans to create another "edge" to prevent an uncooked middle.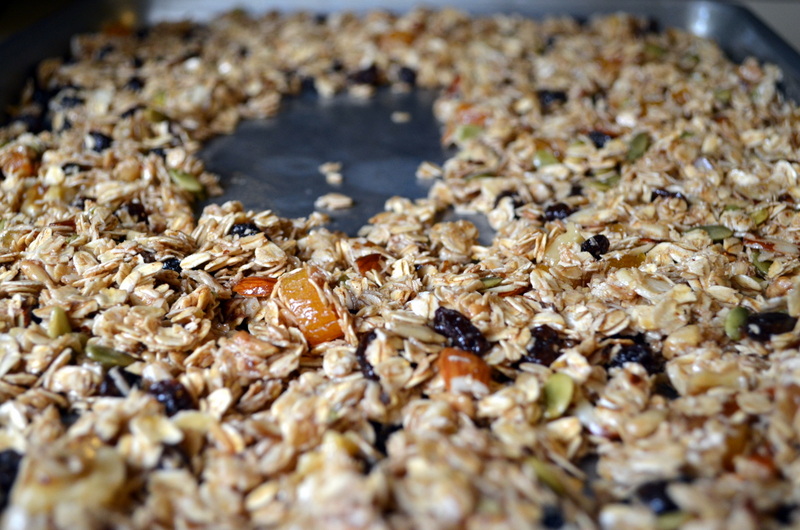 5.  Bake in preheated oven for 25-35 minutes until granola is golden brown and crisp at the edges. You can bake it to your preference.  One time I made the granola lightly browned: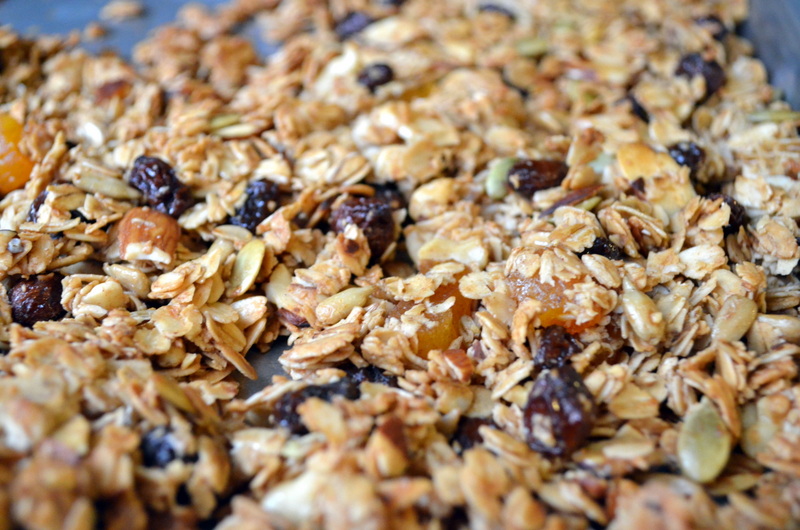 And the next time I baked it a little longer: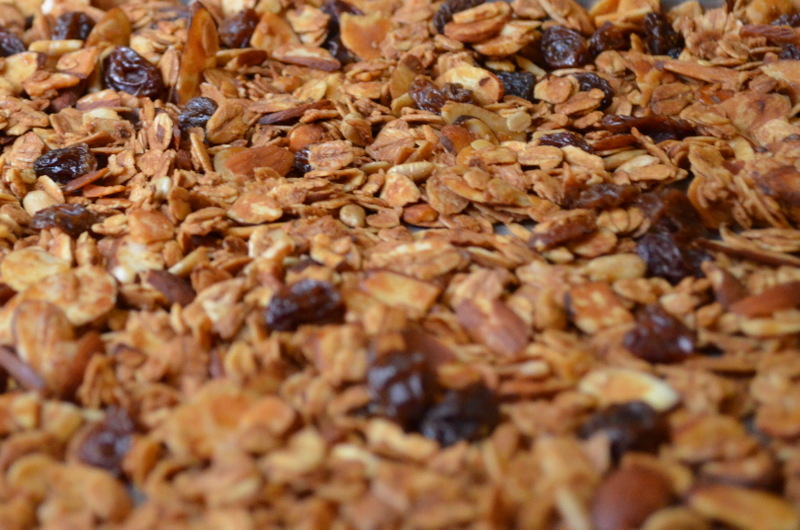 6.  Add fruit to the granola while still warm.  Allow to cool for 15 minutes on baking sheet before eating and at least 30 minutes before storing (allow to cool completely).  Store in an airtight jar.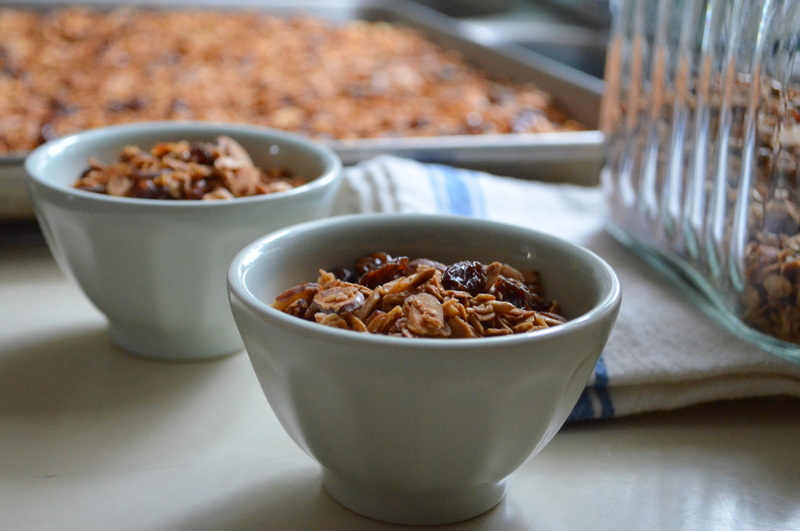 Now, since you've been so patient, I'm going to tell you the secret to making clumpy granola…egg whites!  I'm not sure yet how to make a vegan clumpy granola but so far, as a non-vegan, egg whites are doing the trick for me.  If you want clumpy granola, mix 2 egg whites into your wet mixture before adding to the dry.  When you bake the granola, be sure not to stir it while baking.  This will break up the clusters.  When the baking is complete, allow to cool completely before breaking the granola into nice big chunks.  There will be some chunks and some free bits too.
Now enjoy your amazing homemade granola and yogurt!