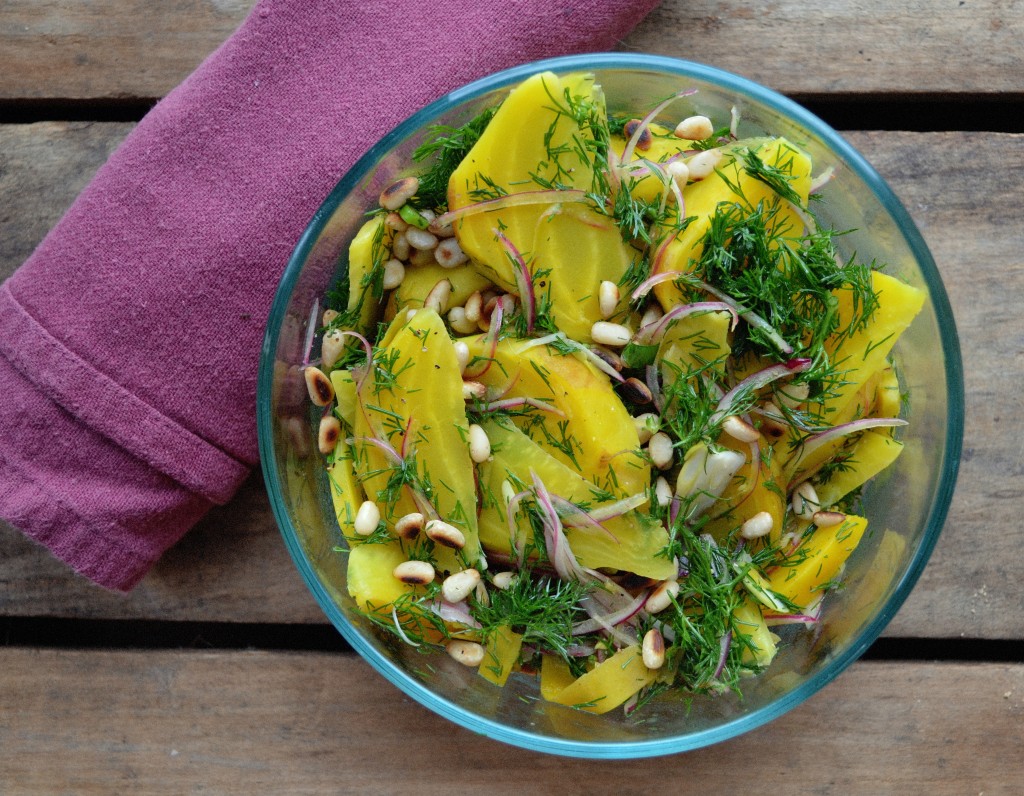 I have a interesting quality that I haven't mentioned on my blog up to this point.  I guess I haven't mentioned it because it's something I've always had so don't think about it often.  But Drew mentions it to friends from time to time and I feel a bit like a carnival act.  I have a memory like an elephant when it comes to food.  The meal we ate on our first date?  Ancho lentil tacos, barramundi cod tacos, a tea, and a chocolate cupcake with vanilla frosting.  Our meal at the Vierling Tavern?  Cajun Blackened Lake Superior White Fish with wild rice pilaf and green beans, finished off with a piece of key lime pie.  My birthday meal four years ago?  Cedar planked salmon vesuvio.  Anyway, you get the point.  I remember my meals.  The good and the bad.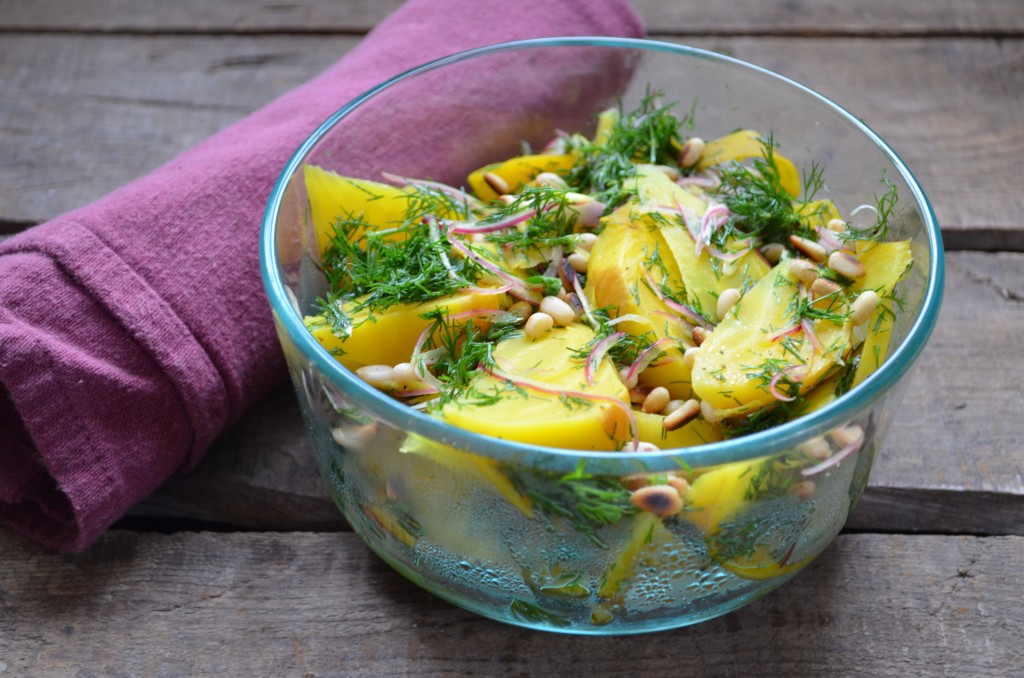 In the summer of 2006, I had recently begun subscribing to Cooking Light Magazine.  One of the first recipes I dog eared and cooked was this golden beet salad.  I made it for my packed lunch to eat during a work day on my summer gardening job.  That summer I was home from graduate school and was working with my friend, June Moon, in the gardens she designed and maintains around town.  That day, we sat at the patio table near the pool at a client's house (my favorite part of his place was the English garden June had designed for his wife before she passed) and enjoyed this salad.   I remember that moment every time I eat this salad. I remember the feeling of friendship.  I remember the hot summer day and dipping our feet in the pool to cool off.  I remember the feeling of working hard and looking forward to the best part of the day; taking a break to put our feet up and share lunch with a dear friend.  I'm grateful for such a good food memory because it is so often tied to memories of where I was, who I was with, and how I was feeling at the moment.
Cooking Light's recipe for this salad calls for roasting the beets and I can attest that it is a delicious way to prepare the  beets–they develop a depth and sweetness that other methods don't draw out.  But when I'm in a bit more of a rush, I opt to boil the beets until just-tender.  It takes less time and still yields great results.  I also add copious amounts of chopped dill (adding some chopped fresh mint to the mix tastes great too!) because I love it.
Be careful when toasting the pine nuts.  It is easy to go from toasted to burned before you know it!
For Cooking Light's original recipe, click here!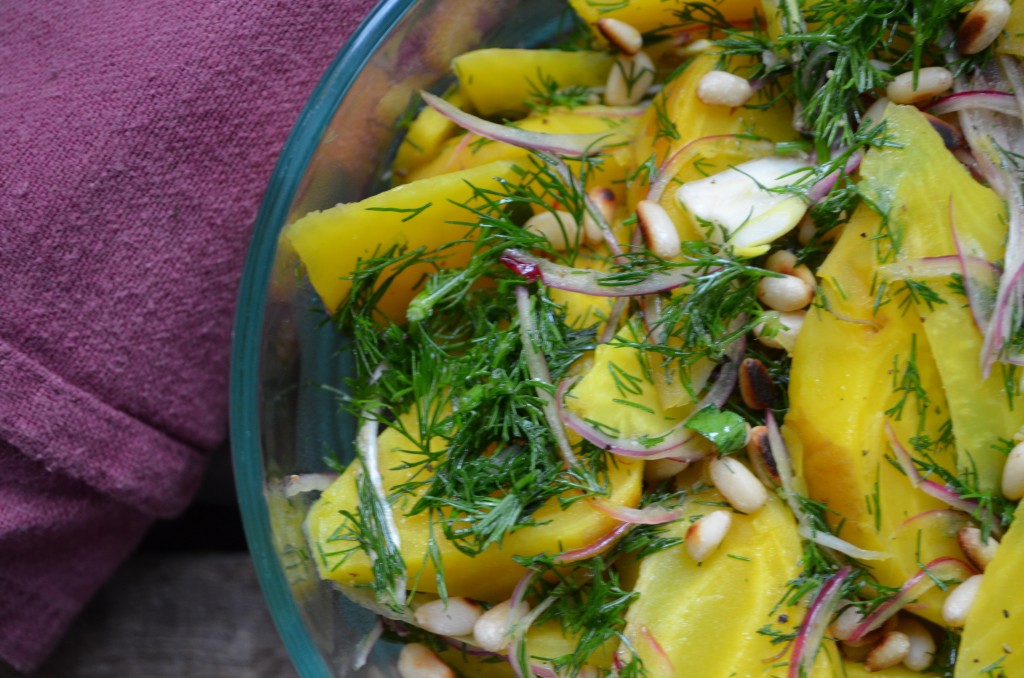 Golden Beet Salad With Dill and Pine Nuts
Ingredients
3 large golden beets
3/4 cup thinly vertically sliced red onion (about 1 small)
2 tablespoons pine nuts, toasted
½ cup chopped fresh dill
3 tablespoons red wine vinegar
2 teaspoons extravirgin olive oil
1/2 teaspoon salt
1/4 teaspoon freshly ground black pepper
Instructions
Preheat oven to 450°.
Scrub beets with vegetable scrub brush. Cut off any "hairs" growing out of the beets. Cut off tops of beets and slice lengthwise into ¼ inch slices.
Place slices into a pot and cover with water. Salt water and bring to a boil. Turn heat down to low and simmer until tender, about 15-20 minutes.
When tender (but not mushy!), drain and rinse with cold water. Drain thoroughly. Combine beets, onion, and remaining ingredients in a bowl, stirring gently.
This also tastes quite nice with some crumbled goat cheese or served on top of some quinoa or rice as a more substantial dish.
https://honeycreekkitchen.com/golden-beet-salad-with-dill-and-pine-nuts/
Copyright www.dinnerwithaura.com