'He looked at his watch, astonished how the months had fallen out of it."  –The Shipping News by E. Annie Proulx
This summer has flown by in a happy, hectic whirl.  Amidst the excitement and busy-ness, there have been a few constants.  Warm, heavy evenings interrupted only by the crack of the bat and the roar of a crowd while listening to the Detroit Tigers on the radio.  Letting the dog out, then in, then out again.  The slow summer rhythm of the neighborhood, with neighbors spilling out on porches and long, spontaneous chats while walking the pup.  Drew's wet waders slung over the white pipe railing of the back porch to dry, oozing tales of trout or simple tales of a good wade down a stream ("That's why they call it fishing, not catching," he reminds me).   The communion of friends sharing meals and stories under the twinkle fairy lights on our back patio.  Saturday mornings bumping into friends and talking with our farmers at the market.  The sweetness of a good night kiss shared.  Cold oatmeal for breakfast.
We have eaten cold oatmeal nearly every morning over the last four months.  And yet, each day I wake up looking forward to it in its many variations.  Soon the warm months will have moved on and we'll be switching back to oatmeal in other forms, oat bran, cooked rolled oats, baked oats, oatmeal griddle cakes.
Cold oats can, and have, been enjoyed in our household in every which way.  On a Saturday morning in summertime, in a patch of sunlight on the back stoop, glasses still on, hair wild, eyelids heavy, one hand thumbing through a cooking magazine.  On a Tuesday morning, racing to get out the door to work, spoon in one hand, blow dryer in the other.  At the desk at work, typing with one hand, eating a greatly anticipated breakfast with the other.  At the tip of the Keweenaw Peninsula at a campground, coffee bubbling in the percolator on the camp stove, a morning fire in the fire pit, reading the What's U.P.? paper, a hodgepodge of odd news and Upper Peninsula real estate.  On a Sunday, listening to our BBC radio drama, The Archers, and drinking our pour-over coffees.
Cold oatmeal (aka Muesli) has been a constant in these moments over the warm spring and summer months.  It has been both a breakfast made for the simplicity and the quickness of it, and a breakfast made for the enjoyment of it.  Some of the best meals are the simplest and this is an excellent example.
Because oatmeal is such a constant in my life, it has become the unsung hero of my mornings.  I have not thought to post about cold oats until this post came about, opting to write about more savory, later-in-the-day meals instead.  But how could I not share this beloved meal with you?
Cold oatmeal can be made in a huge variety of ways, whatever suits your tastes or pantry at the moment.  The formula I usually follow is oats, almond milk, dried fruit, nuts, maple syrup.  Occasionally if the fruit is good I'll stir in some fresh peaches, blueberries, raspberries, figs, or plums but usually I enjoy dried fruit, soaked in the oat mixture over night.
One of the best things about this breakfast is that it is a huge time saver.  The night before, you simply put old-fashioned rolled oats into a jar or bowl, cover with just under twice as much plant-based or animal-based milk, any additions you want, and place back in the fridge overnight.  In the morning, you don't need to lift a finger (or turn on the stove if the day is a hot one) to enjoy a filling and satisfying breakfast.  Convinced?  Follow the easiest-recipe-in-the-world below and you'll be singing its praises too.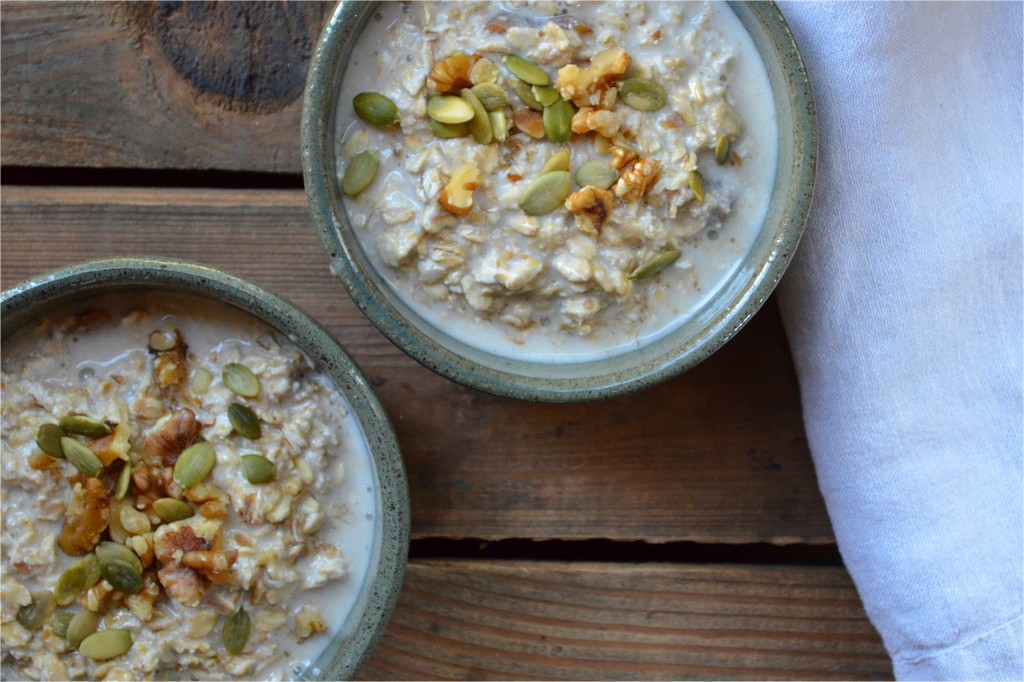 Cold Oats With Dried Fruit and Nuts
1 cup old fashioned rolled oats
1 and 3/4 cup almond milk, soy milk, or cow's milk
3-4 dates, chopped
2 tablespoons walnuts, chopped
1 Tbsp maple syrup, optional (some folks are happy with the sweetness of the fruit without additional sweetener)
 Mix all ingredients into a jar or bowl.
Let sit overnight in the refrigerator.
Grab a spoon, stumble to the fridge, grab cold oats, and dig in.
Serves 2
Variations:
Substitute raisins, cranberries, dried plums, dried cherries, or any other favorite dried fruit.
Add fresh fruits when in season.  Blueberries, peaches, nectarines, prune plums, raspberries, blackberries…all are good options.
Cook up some apples with cinnamon and stir into the mix.
Substitute yogurt for some or all of the milk.
Experiment with raw pumpkin seeds, almonds, hazelnuts, or any other nuts you love.