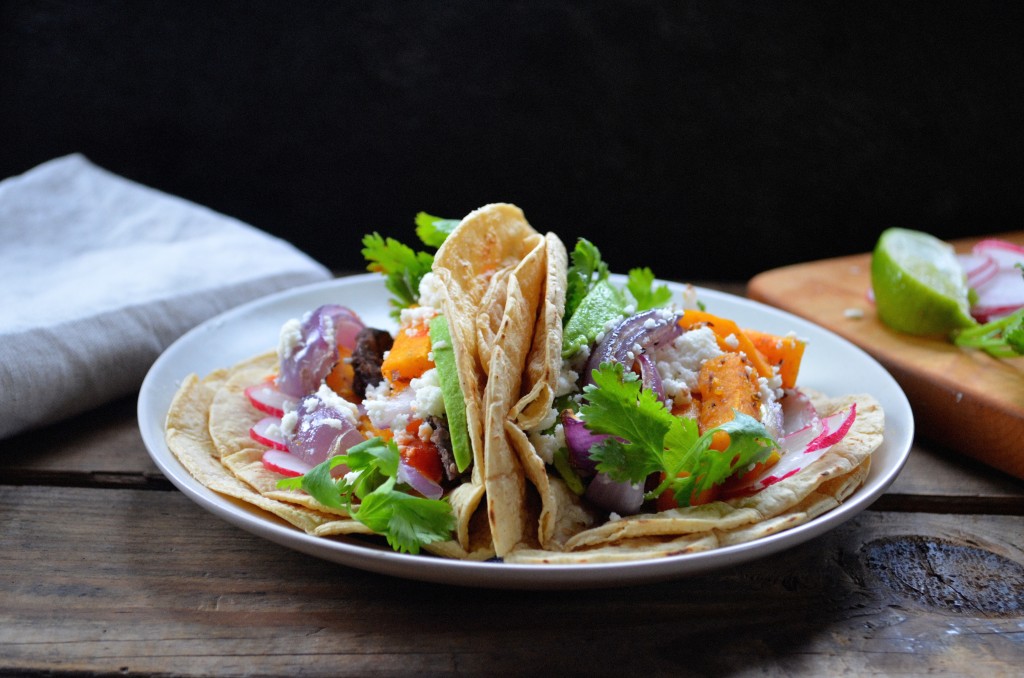 I've always envied those that are able to do what they love for their livelihood.  Although there are certainly downsides to it (as most authors, musicians, and artists know), there is great appeal to this lifestyle.  My sweetie is able to do what he loves, playing music and building instruments, and usually makes ends meet with the modest income that comes in.  It may not be all roses all the time, but there is something to be said about being able to have the time to spend on developing specialized skills and enjoying one's passion.
Over the last few weeks Drew has been working long hours in the woodshop building a gourd banjo.  As a luthier (a beautiful way to say "builder of stringed instruments") and newly learned clawhammer banjo player, he was intrigued when he heard Bob Lucas play a gourd banjo at a symposium called Common Ground on the Hill earlier this summer.  A couple of months later, he began to study plans of existing gourd banjos and set about building one himself.  After hours (and hours..and hours) of reading, planning and ordering supplies, and just a few weeks after the inaugural cutting of one large gourd, shipped from California, he sits playing his beautiful gourd banjo in the kitchen.
I am amazed that building a gourd banjo went from an idea of his to now, a few weeks later, a reality.  I do not have the skills required to build a musical instrument or the passion to do so myself but I most certainly am in awe of this beautiful instrument created by his hands.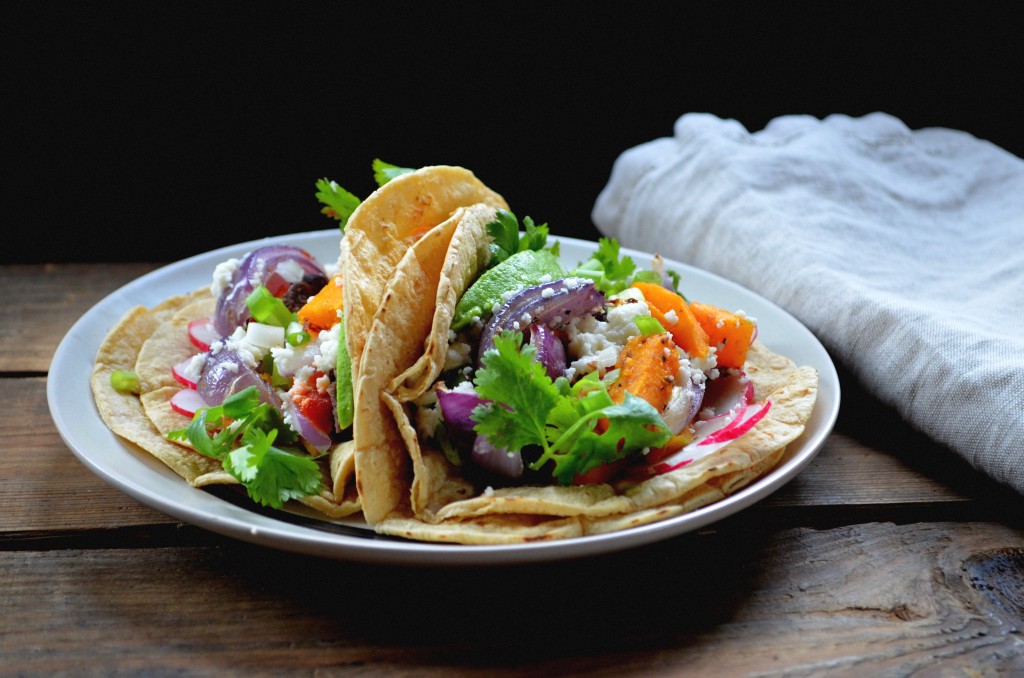 I do like my job and find excitement and satisfaction from it at times.  But as grateful for it as I am (and grateful for steady employment that affords us a comfortable home and meets all of our basic needs) I cannot honestly say it is my life's passion.  Luckily, I get to spend time with my true passion from time to time and sometimes I even get to share it with others.  Tonight I volunteer taught a cooking class at Gilda's Club Grand Rapids (a wonderful cancer and grief support clubhouse) and I got that feeling that I think Drew must feel when he is working on building a banjo or a guitar.  I felt like I was doing something that I could do forever.  I was completely relaxed, had fun, and felt so passionate about sharing my love for cooking with a great group of women.
Because I cook so much (daily), I sometimes take for granted the skills that I've acquired in the kitchen.  I'm just a simple home cook when it comes down to it but I am surprised when I show a class how to do something and they are excited and delighted by it.  Tonight I showed the women how to make a Mexican meal using butternut squash and black beans.  We made butternut squash and black bean chili and these butternut squash, black bean, and charred onion tacos.  At various points in the class I became animated and excited to show random little tips as they popped into my head.  How to slice an avocado in its peel.  How to peel and cut a butternut squash.  That you can eat the skin of a delicata squash.  That you can boil apple cider down into a glaze.  That you can warm and char a tortilla directly on the flame of a gas stove.  That you don't have to measure everything exactly.  That a little chocolate in chili adds depth and richness.  Usually these little joys of the kitchen stay with me.  I am usually pretty quiet in the kitchen at home, choosing silence over music, focusing on the meditative act of chopping vegetables and washing dishes.  I usually take the little aha moments with cooking for granted or I assume that they will not delight anyone other than myself.  It was brilliant fun tonight to not only share my love for cooking but to have fourteen women clap, smile, and say mmmmmm along with me while I cooked, learned (yup–still learning!), and dished up samples of our fall fiesta.
I do hope you try these tacos.  They are a unique way to use my favorite fall vegetable, butternut squash.  They are filling and hearty, aromatic and flavorful.  It's really a compliment when someone who loves meat tacos deems these an A++ (thanks, hon!).  Needless to say, if I ever have a restaurant, these are making the menu.
And whatever your passion, I hope you get to spend a few moments with it today.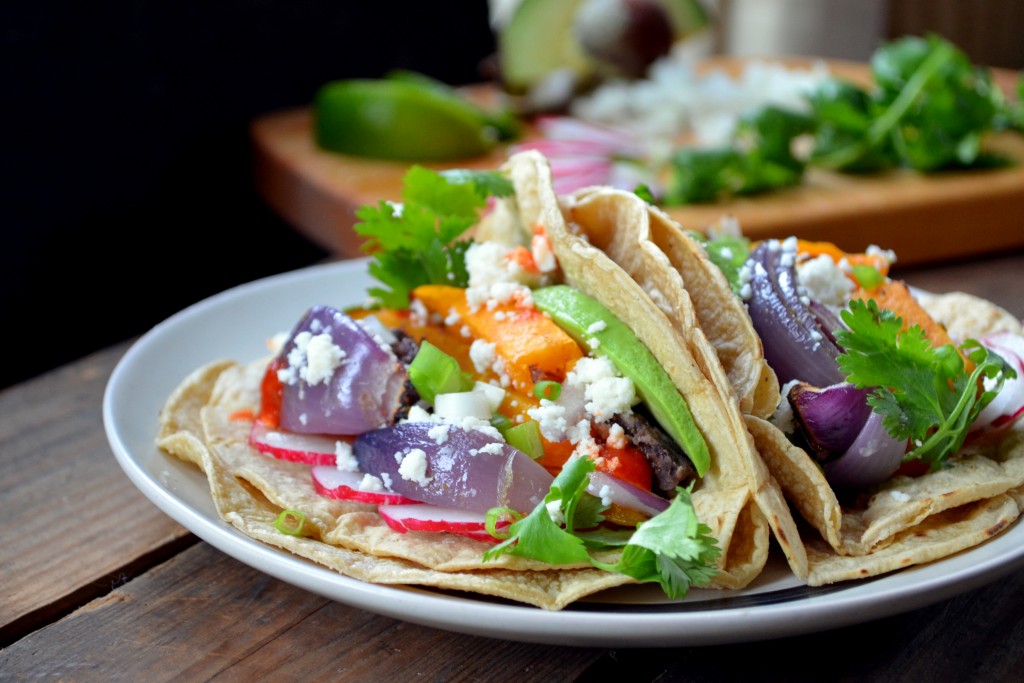 Butternut Squash Tacos with Charred Red Onion and Black Beans (and a bunch of yummy toppings!)
Tacos:
1 small butternut squash
2 teaspoons olive oil, divided
1 red onion, peeled and cut into wedges
1 clove of garlic, minced
1 cup black beans, dried and cooked, or canned is fine too—be sure to drain well
1 tablespoon cumin
12 corn tortillas
For topping:
2 radishes, thinly sliced
1 avocado, sliced
½ cup fresh cilantro, washed and stems removed
½ cup queso fresco (Mexican crumbling cheese)
½ cup lowfat sour cream
1 scallion (green onion), thinly sliced
1 lime, cut into 8 wedges
Sriracha (garlic-chili hot sauce, a.k.a. "Rooster Sauce")
 Preheat oven to 375°.  Lightly oil a baking sheet with 1 teaspoon oil.
Prepare the squash:  Cut the bottom off of the butternut squash to create a flat surface and stand squash on its end.  Cut the squash down the middle, lengthwise.  Scoop out the seeds with a spoon and discard (or…as reader Natashia suggests, you can clean and roast them, spreading out on a baking sheet as if you were roasting pumpkin seeds–takes about 20 minutes).  Peel the outside of the squash with a knife, taking care to always have a flat surface for stability.  Slice the squash into ½ inch slices.  Cut the slices into ½ inch diameter matchsticks, about 5 inches long.
Place the squash sticks onto the oiled baking sheet and sprinkle with salt and pepper.  Don't crowd the pan—use two pans if needed.  Bake for about 15-20 minutes.  Poke with a  fork to test for doneness—the fork should easily pierce the squash and the squash should still hold its shape.  Remove from the oven when done.
In the meantime, heat the remaining teaspoon of olive oil on medium high in a cast iron skillet or other heavy skillet and add the onions and garlic along with a sprinkle of salt.  Cook for about five minutes, stirring frequently, until the onions have browned and softened slightly.  Add the beans to the pan along with the cumin and stir for a moment until heated through.
Heat a small skillet over high heat and add tortillas to the pan, one at a time, turning until they are heated and a little crisp.  Once all tortillas are heated, add a few sticks of squash to each, a large spoonful of the onion and bean mixture, and any toppings you like (from the toppings listed above).  Squeeze a wedge of lime over each and serve with Sriracha or another hot sauce on the side.
Makes 12 tacos