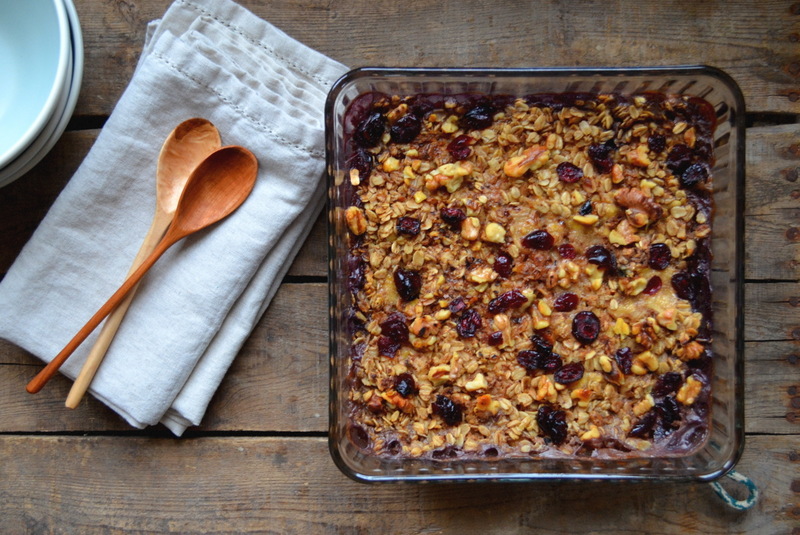 Hi!  Great news!  My sweetie and I are getting hitched!  Just thought I'd let you know.  I feel so fortunate.  Drew is a gentle, kind soul.  A hard worker.  A true friend.  An artist.  And he brought baked oatmeal into my life.  What more could you ask for?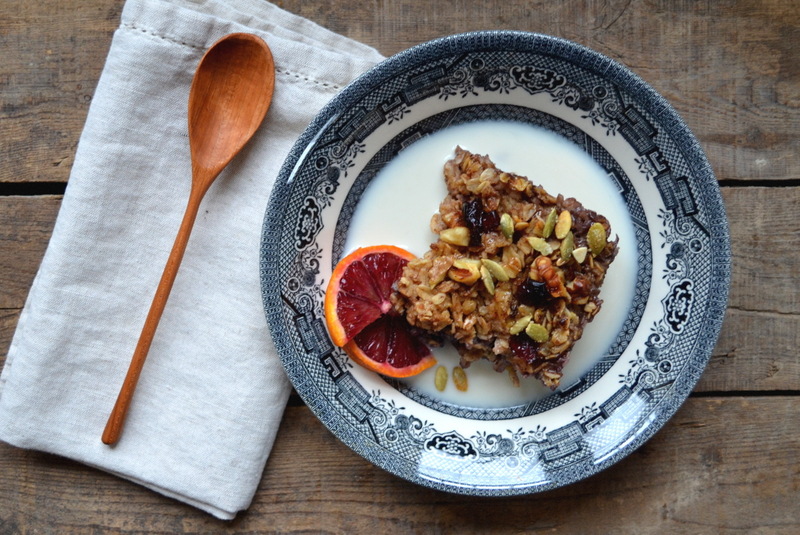 In celebration of love and baked oatmeal, I'm bringing back one of my all time favorite recipes with new photos.  Thanks for bringing so much love into this household, honey.  Here's to a lifetime of happiness.  And here's to the bliss that only a good cup of coffee, a heated mattress pad, and a house filled with the incredible aroma of baked oatmeal can bring.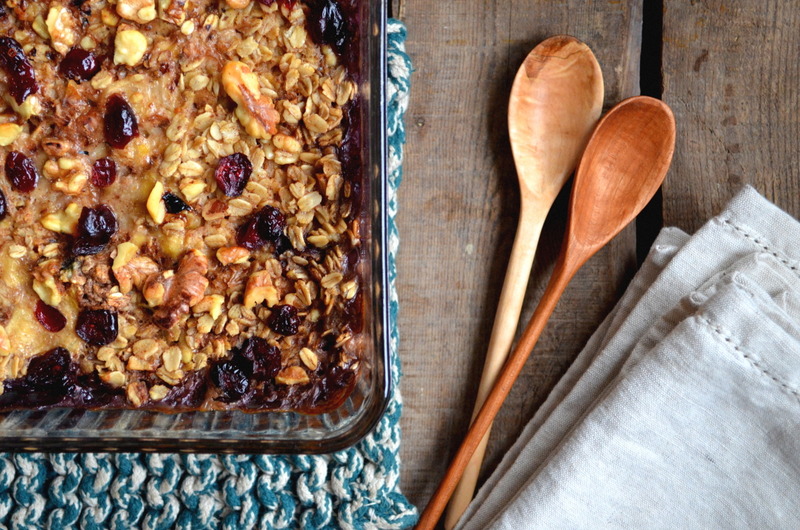 This recipe is adapted from Heidi Swanson's Super Natural Every Day.  One of my all time favorite cookbooks.  Her version includes eggs, butter, and milk (and her version is delicious, I can attest) but with a few tweaks, everyone can enjoy this dish and no one will feel they are missing out.  I replace the milk with non-dairy almond milk (you can use soy if you prefer but I prefer the lighter taste of almond milk), the butter is replaced with oil, and the egg is replaced with a half of a mashed banana.  If you like oatmeal you will love this version, which is like a mildly sweet dessert for breakfast.  Without the guilt.
This recipe is perfect (I mean PERFECT) for serving overnight guests.  Put it together the night before (only takes 5-10 minutes to prep) and pop it in the oven the next morning.  Your house will smell amazing and your guests will be forever grateful for the warm comfort of this dish.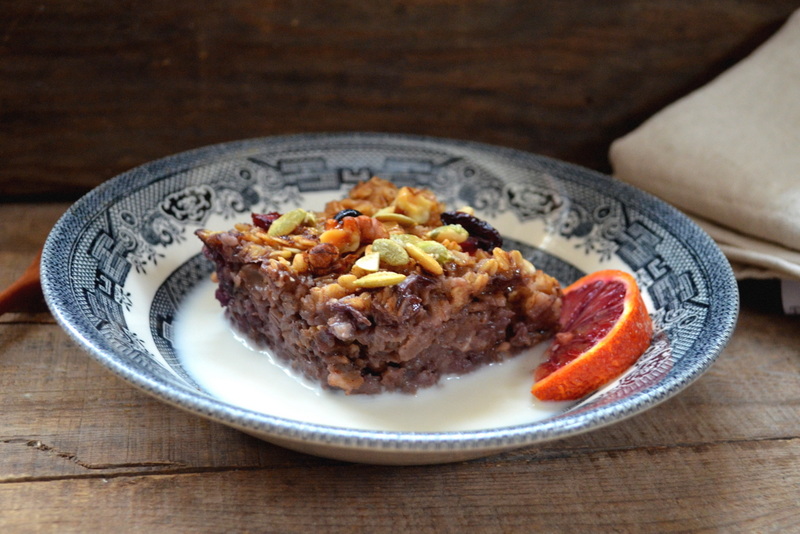 Baked Oatmeal With Walnuts and Blueberries
Ingredients
2 cups of rolled oats (use 'old fashioned' oats, not 'quick' oats)
1/2 cup walnut pieces, toasted and chopped
1/3 cup natural cane sugar or maple syrup, plus more maple syrup for serving if you like it sweet!
1 tsp baking powder
1 1/2 tsp ground cinnamon
Scant 1/2 tsp fine-grain sea salt
2 cups almond milk, soy milk, or dairy milk
1 egg, lightly beaten
2 Tbsp canola oil
2 tsp pure vanilla extract
2 ripe bananas, cut into 1/3 inch slices
1 1/2 cups blueberries (frozen or fresh)
Milk and maple syrup to serve
Instructions
Preheat the oven to 375° with a rack in the top third of the oven. Oil the inside of an 8 inch square baking dish.
In a bowl, mix together oats, half the walnuts, sugar (if using as your sweetener), baking powder, cinnamon, and salt.
In another bowl, whisk together maple syrup (if using as your sweetener) milk, egg, oil, and vanilla.
Arrange the banana slices in a single layer in the bottom of the prepared baking dish. Sprinkle two-thirds of the berries over the bananas. Cover the fruit with the oat mixture. Slowly drizzle the milk mixture over the oats. Gently give the baking dish a couple taps on the countertop to make sure the milk moves through the oats. Scatter the remaining berries and remaining walnuts across the top.
Bake at 375° for 35 to 45 minutes, until the top is nicely golden and the oat mixture has set.
Remove from the oven and let cool for about 10 minutes. Cut into nine squares and serve in bowls.
This tastes great on its own but if you prefer, drizzle with maple syrup and pool some almond, soy, or dairy milk on the bottom.
NOTE:When apricots are in season, try this dish with fresh apricots instead of bananas on the bottom of the baking dish. Out of this world. FOR VEGANS: To make this dish vegan, use non-dairy milk and substitute 1/2 mashed banana for the egg. I make it this way about half the time and it's delicious.
https://honeycreekkitchen.com/baked-oatmeal-with-walnut-and-blueberry-and-an-announcement/
Copyright www.dinnerwithaura.com